Rainbow Kids Yoga
,
Featured Studio
About the Studio
Rainbow Kids Yoga is one of the leading international Yoga Teacher Training company, specializing in 3 -Day Kids & Family Yoga Teacher Trainings, 280 Hour Family Yoga Trainings, Partner Yoga Trainings and Family Yoga Retreats.
It is a fun and constantly evolving family managed and kid inspired business, run by Gopala and Angel Yaffe. It was lovingly born in 2007, with the intention of giving people the tools to teach fun, engaging, and creative Yoga classes for children and families.
RKY offers a variety of unique, family-focused Yoga trainings ALL OVER THE WORLD. Our courses are renowned for being captivating, energizing, loving, dynamic, intense and life changing.
They are condensed with a life time of knowledge and hands on experience from Gopala, Angel and the awesome RKY team, who are known for their love of yoga and their passion for supporting community, family and children.
To date, Rainbow Kids Yoga have already brought their training to over 60 cities in more than 40 countries on 5 different continents and have trained over 3000 kids and family yoga teachers.
Rainbow Kids Yoga gives it all in every training, not a moment to waste, every second of this training is packed full with everything you will need to teach the best and most fun kids and family yoga classes in the universe!
You will be left with a smile on your face, a wealth of knowledge and an ignited spirit to spread the love and joy of Yoga, helping in changing the world, one kid at a time.
Rainbow Kids Yoga 3 – Day Teacher Training
The 3 – Day Rainbow Kids Yoga Teacher Training is a comprehensive, intensive and practical certification course. Be prepared to practice and learn to teach yoga while laughing, dancing, playing and singing! This Teacher Training is well rounded and intensive, with practical theory, discussions and TONS OF FUN! Most importantly, you will come out with immediate tangible knowledge and tons of fabulous ideas to create original, captivating and fun yoga experiences for kids of all ages, anywhere in the world.
This course is highly recommended for yoga teachers, kindergarten/school teachers and educators, professionals who work (or would like to work) with children in different settings (for example: drama, dance, arts, acrobatics, gymnastics, 'etc) and for parents.
No previous experience is necessary.
What you can expect to learn:
- How to make Yoga FUN for all age groups!
- Over 350 Yoga poses for kids
- About a million creative Yoga games
- Breathing and Meditation exercises and games suitable for kids
- Guided Imagery and other Relaxation techniques
- Partner Acrobatics, Human Pyramids, Flying Yoga and other ways to make Yoga super      COOL!
- Partner and Community interactive Yoga for Kids & Teens
- Thai Massage and other ways to connect, give and receiveGain some teaching experience and so much more…
Lecture topics include:
-Age-appropriate class structure from Toddlers (age 1.5) to Teens (18)
-Class management tips and ideas for bringing everyone together
-Yoga for Children with Special Needs
-Creating a Family Yoga class (for parents and kids to do together)
- Enlightened Business – how to promote your yoga business in a yogic and efficient way
- Discovering your teaching voice
- And more…
The graduates teach everywhere using our diploma: schools, kindergartens, day care centers, community centers, Yoga studios, gyms, Yoga birthday parties and privately.
Rainbow Kids Yoga is a 500 Hour Registered Yoga School with Yoga Australia , a 200 Hour Registered Yoga School with the US Yoga Alliance and with the Yoga Alliance UK, as well as a Registered Yoga School for Children Yoga and Pregnancy Yoga with the Yoga Alliance UK.
The Rainbow Kids Yoga certificate is recognized by the UK Yoga Alliance and is eligible for continuous education credits by the US Yoga Alliance.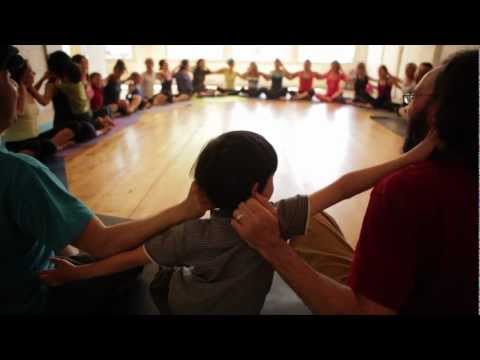 Click here for a full list of upcoming trainings
Testimonials
"I highly recommend this course to anyone who works with children. It reminds us to find joy in the everyday, joy in our bodies and joy in our spirits. The spirit is the neglected side of the child in education. Rainbow Kids nurtures this and more. The academic benefits are tremendous – in ECE (Educational Credential Evaluators), we talk about literacy, math skills, and executive functions of the brain being the foundation for "school readiness". Rainbow Kids develops and supports this triad of foundational blocks to academics".
Terry K. – ECE, USA
"Thank you from the bottom of my heart! The training I did in Toronto was beautiful, powerful and FUN! It's been a while since I laughed that much. I learned so much on not only how to be a Kids yoga teacher but also how to connect with my inner child again. Thank you for helping me make this possible with your assistance program. I highly recommended it to everyone I talk to in regards to my experience with rainbow kids yoga. Can't wait to spread the Love!".
Sarah – Toronto, Canada
"The Rainbow Kids Yoga course was a fantastic experience that I would definitely recommend. I learnt fun, fabulous and exciting ways to connect with children while teaching them yoga. The content of the course was inspiring and the teacher was simply amazing. I enjoyed most the different attitude and approach to yoga. The playfulness and creativity. The ability to teach in a fun and fabulous way. It really opened my eyes to a whole new world. I am very much looking forward to my Rainbow Kids Yoga journey".
Carla Marchant – Byron Bay, Australia
"I just did the teacher training in Bogota and it was amazing, the enthusiasm and energy of the teacher, the beauty and spontaneity of the method…. I'm so happy to have experienced this beautiful three days… Thank you rainbow kids yoga… I am speechless".
Sergio Anand – Bogota, Colombia
"The RKY Teacher Training course gives the confidence to teach yoga to children in a fun, stimulating way which will keep them interested, inspired and developing a high level of self-awareness, as well as those vitally important social skills. The course is full of highly practical ideas and the manual is absolutely user-friendly. It encourages creativity and self-belief … a very uplifting experience. Thank you RKY".
Vicki Graham – Bali, Malaysia
"I just completed an amazing 3 day training session in London and the instructor was a real pleasure to be around. Fun, Charismatic, Intelligent, Passionate about what she does and genuinely wants the best output for kids. Many training sessions can come across as money making schemes – but there was none of that in Rainbow Kids Yoga training course … these guys have a genuine passion to enrich kids' lives through yoga and just having fun! Thanks for bringing back the child in me. I think I had more fun over the last three days than I probably did when I was a little girl at school..
.. God bless you guys to continue your great work… the world would be a more colorful place that's for sure!".
Parbinder – London, England
Find a Studio